What our Panel said about general practice... July 2017
This month, our Consumer Health Panel was invited to provide feedback on their experience with general practice.
Responses showed that 95% of the panel have a regular general practice. While 7 out of 10 people see a regular GP, others indicated they were happy to see any available GP or would see a number of GPs available at that same practice.
It was pleasing that 9 out of 10 panel members knew about the variety of health services available at their regular practice, with more than half indicating practice nurses and pathology services were accessible. Other available health services mentioned by the panel include: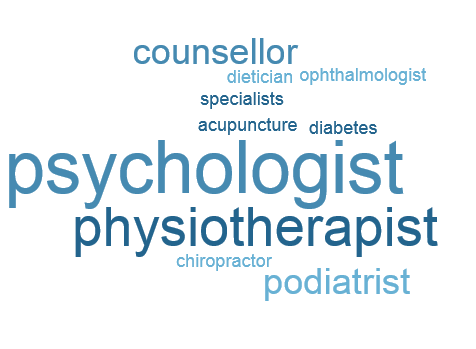 Panel members were asked what short message they would send to their GP to help improve their experience of care. While 25% of people said they had experienced no problems and were happy with their level of care, some indicated concerns about long waiting times and GP availability, for more time to be taken to check records and read medical history, lack of regular blood pressure or blood checks, and more space in the waiting room.
Some people suggested they would like to be treated in a more holistic way, with consideration given to both their physical concerns but also emotional and social issues, would like easier access to repeat prescriptions and test results, as well as being linked with other health opportunities such as support groups or women's health centres.
COORDINARE is working with interested general practices to create more opportunity for consumer experience to be understood, and to help inform improvements in approaches to care.
When asked what our panel members thought a 'health care home' or 'patient centred medical home' was, there was a lot of uncertainty. The varied responses indicate there is quite a bit of work to do to help people understand this emerging model of care.
The Patient Centred Medical Home or Health Care Home model puts the patient at the centre of their care, to ensure each patient has the care team they need. This person centred approach to health care is designed to deliver equitable, high quality, integrated care that is accessible to all.
Watch this video for more information on the Patient Centred Medical Home.
COORDINARE, as the South Eastern NSW PHN, is supporting and funding activity to help build the capacity and capability of general practices within our region to 'get ready' to be a Health Care Home, over the next two years. The way health care is delivered needs to continue to evolve to enhance patient care and experience which will see more and more practices shift to a Patient Centred Medical Home approach. For more information visit the Patient Centred Medical Home page on our website.
***
Please note: COORDINARE is not a clinical health service and cannot advise individuals about their health care. Always seek the advice of your doctor or other qualified health provider regarding any questions or concerns you may have about a particular medical condition.