What our Panel said about our new website... May 2019
This month, we wanted to understand the different types of information people would expect to find on the COORDINARE website.
In the past, the COORDINARE website has focused mainly on information for health professionals. However, we are currently developing a new 'For the community' section of the website.
When we asked our Panel members to review the 'For the community' section of our website, most people felt it was interesting and easy to navigate.
When we asked for people's immediate impressions of the website, some key comments included:
"I was surprised as I didn't know about it. Looks good, easy to navigate."
"Basic but has plenty of scope to increase. Relevant topics."
"Needs more depth rather than a single statement on each screen."
"Good to see our feedback [on the Consumer Health Panel reports page] and hope it is of use." (Editor's note: It is very useful!)
For 65% of people, there were specific details that caught their attention on the website, such as the 'Community events' page, 'Mental health' section and patient feedback form.
One respondent said: "I particularly liked the fact that you can look at all the headings and subheadings, click on one and it is explained."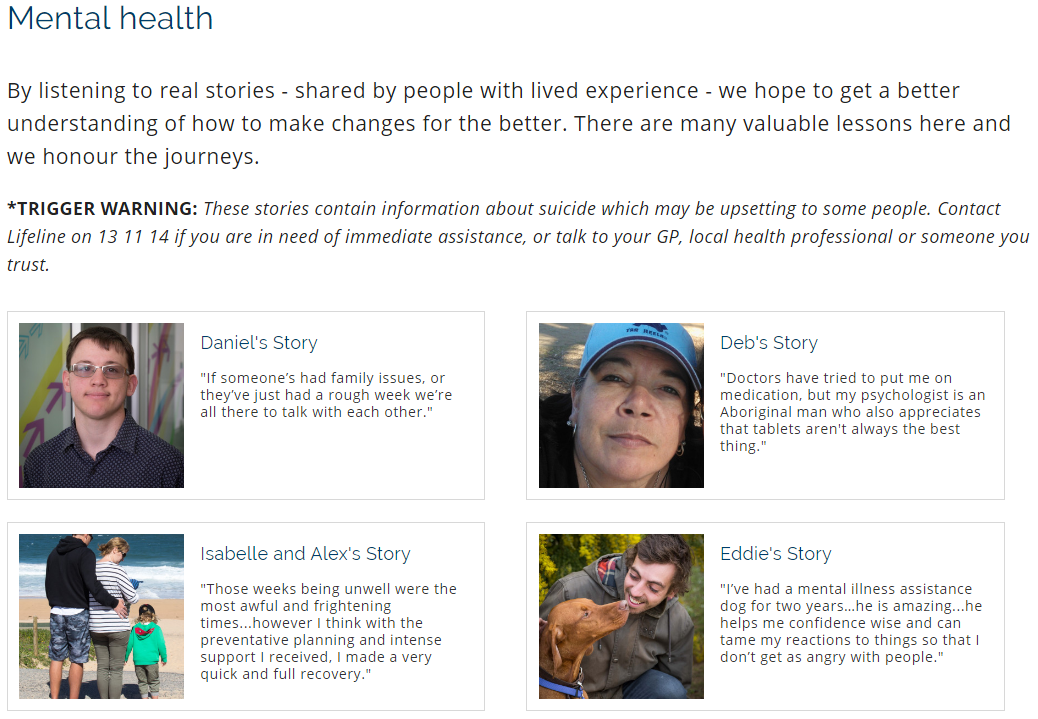 Above: A snapshot taken from the 'Mental health' section for community members on our website.
We then asked the Panel to rate the 'content', 'ease of navigation' and 'look and feel' of the website between 1 and 5 (1 being poor and 5 being excellent).
Almost half of people (46%) rated the 'content' as 3, indicating improvements are needed in this area. (We are on it!)
We also asked the Panel to indicate the importance of various features on a website between 1 and 5 (1 being least important and 5 being most important).
'find a health service' tool – 48% of people rated this as 5
symptom checker tool – 35% of people rated this as 5
pill checker app – 61% of people rated this as 5
report my experience app – 32% of people rated this as 4
translation tool – 35% of people rated this as 5
question builder app – 32% of people rated this as 4
a-z health information app – 55% of people rated this as 5.
More than 60% of people accessed our website via a desktop computer or laptop, while 23% accessed it via smart phone or mobile and 15% via iPad or tablet.
The survey responses indicated that 64% of our Panel don't have a particular website they go to for health information. Of the 36% who do have a website they use, the most popular were:
Healthdirect
Mayo Clinic
health databases/Google search
government websites (e.g. Better Health Vic).
We asked the Panel how COORDINARE could best communicate with community members about engagement opportunities (e.g. opportunity to join the Community Advisory Committee).
The top suggestions for communication were email (53%), register of interested people (47%) and advertisement in the local paper (47%).
Some overall comments about improving the 'For the community' section of the COORDINARE website included:
"People must be able to understand what you are saying. Don't make it too complicated."
"Providing access to real information about orthodox medicine and prevention is better than more pills."
"If you wish to represent the diversity of [the] community, I think you need to seek individuals from those sections of community otherwise you don't really represent us all."
Thank you to our Consumer Health Panel members for sharing your thoughts as we develop this new site. We hear you.
In fact, over the coming months we will be transitioning our Consumer Health Panel to a new platform, which will allow for additional methods of engagement including:
quick polls
consultation hubs
opportunities to share your stories and ideas.
Stay tuned for more information!
***
Please note: COORDINARE is not a clinical health service and cannot advise individuals about their health care. Always seek the advice of your doctor or other qualified health provider regarding any questions or concerns you may have about a particular medical condition.