What our Panel said about peer support in health care... December 2019
This month, we wanted to understand how Panel members would prefer to access support for health care, and whether they had heard of peer support programs.
More than 70% of our Panel had not heard of peer support prior to starting this survey.
Almost 20% had previously heard of peer support, and of those people 1 in 2 people were aware of peer support programs available to them or someone they care about through a health care provider.
It's encouraging to see that of those people, 1 in 3 people had also tried a one-on-one peer support program through a referral from a health care provider or hospital.
When we asked the Panel whether they would be likely to engage in peer support if needed, almost 70% of people indicated 'Somewhat likely' or 'Very likely'. A further 25% of people were unsure.
We also asked what would be most helpful for someone looking to access a peer support service. The top five most appealing qualities in a peer support service included:
tips and tricks to self-manage
practical wisdom
being able to speak confidentially
connecting with people who have similar health concerns
social or emotional support from others.
One person said: "I work as a volunteer with a younger man who is disabled. I have no medical background but provide community and emotional support… he would not see a professional."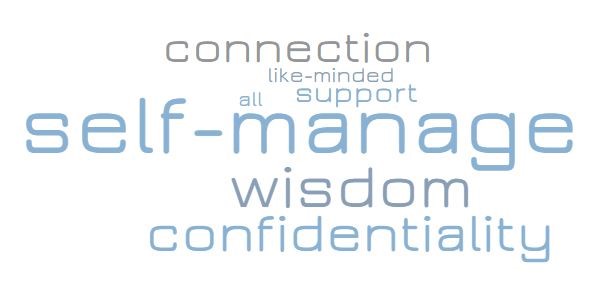 Above: We asked the Panel about the most helpful qualities and outcomes of a peer support service.
Many of our Panel members commented that while they haven't tried peer support, they are interested in the idea. Some key feedback included:
"Something I'd like to try if needed."
"Important for community-based peer support to be available as well as government-driven support."
"Training courses around emotional support and possibly peer support for volunteers would be helpful."
"Online services would be amazing. I find that there aren't many disease-specific online support groups in Australia."
"It sounds like a good idea. Especially for people who are 'isolated' without helpful family or friends."
A couple of people who had either experienced peer support themselves or knew someone else who had experienced it, said:
"Talking with someone who has experienced the same is very valuable and cannot be replaced by other people."
"In some areas i.e. Younger Onset Dementia, peer support is the only real support."
"I have a friend who acted in this capacity… in mental health. I can see that her contribution was very valuable."
Thank you to our Consumer Health Panel members for sharing your thoughts on peer support programs in health care settings.
Holiday health advice
Last month, we asked you about strategies for managing health care over the summer holidays. You told us that doctors' surgeries and health care providers need to do more to help people get prepared for the holiday season.
That's why we created a 'summer strategy' checklist for the community, which doctors can display in their foyers and share on social media. Check it out by clicking here and feel free to download / share!
We also created a holiday health advice page on our website based on the feedback you gave us. Go to holidayhealthadvice.info to learn more!
Tell a friend about our Panel
If you know someone who might be interesting in sharing their views on local health issues, don't be shy – tell a friend about our Panel!
Please spread the word via social media or email, and encourage people to sign up at communityconnect.coordinare.org.au/register. Thank you!
Keep track of community groups and events
Did you know you can find out the latest health-related opportunities for the community on COORDINARE's Community groups and events page? The page is updated regularly and there are many local workshops, surveys and consultation opportunities available!
***
Please note: COORDINARE is not a clinical health service and cannot advise individuals about their health care. Always seek the advice of your doctor or other qualified health provider regarding any questions or concerns you may have about a particular medical condition.