What our Panel said about pharmacy... August 2018
This month, COORDINARE asked people in South Eastern NSW to share their views on pharmacy, and whether visiting a local pharmacy helps people manage their own health.
It's great to see that 69% of our Consumer Health Panel participants have a regular pharmacy that they go to.
When it comes to choosing a pharmacy, convenient location is the most important factor, with 1 in 3 people indicating this. Other key factors were the opening hours (19%) and loyalty program (11%).
Participants indicated they are more likely to visit a pharmacy with the following attributes:
good customer service
professionalism
knowledgeable and responsive staff
trustworthy staff who genuinely care.
More than a quarter of Consumer Health Panel participants (26%) indicated that they visit a pharmacy on a monthly basis. A further 20% of people visit a pharmacy on a weekly basis.
It's interesting that more than 85% of people have visited a pharmacy seeking medical advice. More than half of people (58%) rated the medical advice they received as 'very satisfactory'.
Of those who have visited a pharmacy recently, 24% of people did so to get prescriptions filled. A further 20% of people purchased medication over the counter.
Above: Our panel was asked about the services they have recently accessed at their local pharmacy.
While 3 in 5 of our panel participants report taking prescription medications, only 36% of people were aware that pharmacists can help them manage medications with a Webster-pak® (pictured below).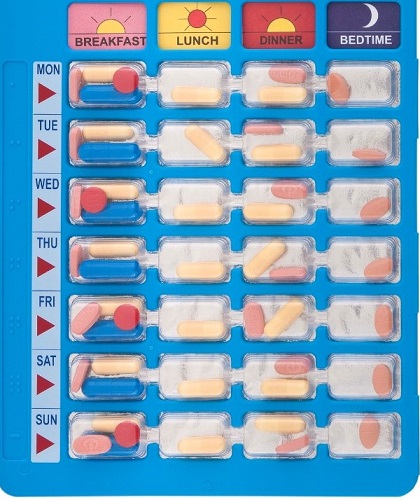 Source: www.webstercare.com.au
Additionally, more than a quarter of people (27%) were unaware that they could access other services like Medscheck and home medication reviews through their local pharmacy.
It's encouraging to see that 2 in 5 people believe their pharmacist communicates well with their GP but clearly there's still room for improvement!
Some participants felt it would be helpful for their GP to communicate more with their pharmacist. Key reasons for this included:
"It would save time and errors"
"To verify dosage"
"The pharmacist would better understand the customer's health needs"
"It may help prevent medication mix-ups."
When asked about pharmacists uploading medication information into My Health Record, 1 in 2 participants thought this was a good idea.
And finally, more than 90% of our Consumer Health Panel participants said they would be happy to recommend the panel to family and friends. Thank you to our panel members for this positive response!

***
Please note: COORDINARE is not a clinical health service and cannot advise individuals about their health care. Always seek the advice of your doctor or other qualified health provider regarding any questions or concerns you may have about a particular medical condition.