What our Panel said about self-managed care... October 2017
Over the past two months COORDINARE has been speaking with people across the region about how hard or easy it is to manage chronic disease. In keeping with this theme, the health panel topic this month asked questions about people's experience of self-managed care.
This month, 6 in 10 people reported having experience with self-managed care and taking an active role in managing their own health and well-being.
Most people [8 in 10] thought there was benefit in being involved in managing their own care and 7 in 10 people thought it was important to be responsible for their own care. Half of our panel appreciated being able to be involved to make good decisions about their health.
When panel members were asked 'who' recommended self-managed care, the majority identified their GP.
Self management of chronic disease often involves setting personal goals to work toward. Panel members were asked if and how they were involved in deciding what goals were important. While the majority, 8 in 10 people, said they were actively involved in these decisions, 1 in 10 stated they didn't really have much say.
When asked to what extent people thought they would be able to achieve their self management goals, 40% were confident they could manage, 30% were hopeful they could manage and 10% of people were unsure.
A number of barriers were experienced in achieving self-managed care. Eight in 10 people said it was tricky to find their way around the health system and find available health services. Having the confidence to manage conditions was also a concern for half of our panel, and maintaining a healthy lifestyle over a period of time was identified by 4 in 10 people as challenging. COORDINARE will seek to understand more about these barriers and challenges in coming months.
Finally, panel members were asked to provide one or two words about how to find more health information to better self-manage. Popular responses included: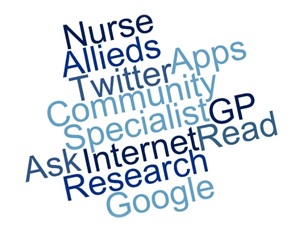 COORDINARE is looking at how and what type of support may be required to support and improve the health system and these responses will help inform our thinking.
***
Please note: COORDINARE is not a clinical health service and cannot advise individuals about their health care. Always seek the advice of your doctor or other qualified health provider regarding any questions or concerns you may have about a particular medical condition.