What our Panel said about the flu shot... July 2018
This month, COORDINARE asked people in South Eastern NSW whether they have had the influenza (flu) shot in the lead-up to winter. We also asked people for their thoughts on reducing the spread of flu.
It's great to see that more than half of our Consumer Health Panel participants (67%) have had the flu shot this year, with 85% of these people receiving it at their local doctor's surgery.
Of those who have had the flu shot this year, 40% wanted to better protect themselves, after contracting the flu last year.
Encouragingly, 3 in 5 people believe the flu shot will be effective in protecting them against the flu.
A further 30% of people are hopeful that by having the flu shot, the severity of the flu will be reduced if they do contract it.
The three most commonly cited reasons for not getting the flu shot were:
a lack of supply and having to go on a waiting list
reliance on natural immunity
doubt about whether it's effective; especially for someone who is healthy.
Two survey participants also said that they are taking medications which might not mix well with the flu shot.
According to our survey responses, only 37% of people believe that all at-risk groups should get the flu shot, including people over 65; young children; people with chronic conditions; Aboriginal people and pregnant women.
Interestingly, 1 in 3 people feel that every Australian should get the flu shot (even if they are not in one of the high risk groups).
More than 40% of survey participants believe the flu shot is beneficial for healthcare professionals working with sick patients and/or the elderly. More than 30% of participants said that the flu shot protects vulnerable people from getting the flu.
In addition to having the flu shot, we asked the panel for recommendations on how to prevent the spread of flu.
The three most popular methods for reducing the spread of flu were:
washing hands for 10 seconds with soap and water (16%)
eating well, exercising regularly and getting enough sleep (15%)
coughing/sneezing into your elbow (13%).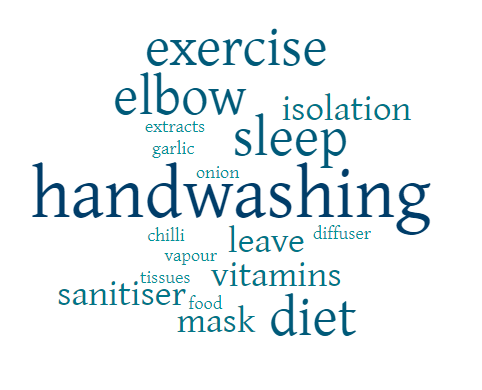 Above: Our panel was asked about strategies for reducing the spread of flu.
We also asked the panel how they might look after themselves this winter, should they get sick with the flu.
The three most popular methods of recovery were:
'drink plenty of fluids' (22%)
'stay at home and rest till I've recovered' (19%)
'rest in bed' (16%).
Thank you to our panel members for sharing their views on the flu shot and strategies for reducing the spread of flu.
For more information on the flu shot, you can refer to this ABC Fact check report. See the Health Direct chart for details on colds/flu.
***
Please note: COORDINARE is not a clinical health service and cannot advise individuals about their health care. Always seek the advice of your doctor or other qualified health provider regarding any questions or concerns you may have about a particular medical condition.