COVID-19 information for you and your family
COVID-19 (sometimes called coronavirus) is a respiratory illness caused by a new virus. Symptoms include fever, coughing, sore throat, and shortness of breath. The virus can spread from person to person, but good hygiene can prevent infection.
If you or someone you care about is feeling worried about COVID-19, you're not alone. You can call Beyond Blue's Coronavirus Mental Wellbeing Support Service on 1800 512 348 and talk to a trained counsellor 24 hours a day, 7 days a week.
If you are feeling unwell and would like advice on whether to see your doctor, manage your health at home, or visit an emergency department, it's a good idea to talk to your doctor. You can also call the healthdirect helpline on 1800 022 222 and speak to a registered nurse 24 hours a day, 7 days a week.
If you think you have symptoms of COVID-19, you can call the national Coronavirus Health Information Line on 1800 020 080, 24 hours a day, 7 days a week.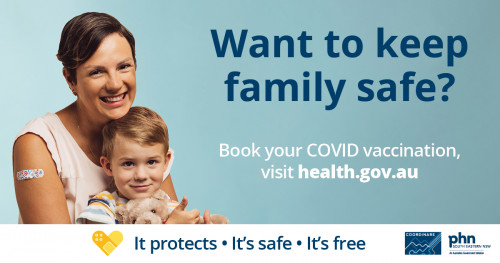 'Benefits of vaccination' is a free COVID-19 vaccination campaign designed by COORDINARE for health services, local councils, organisations and community groups. Click here to access resources and find out more.