Dr Duncan MacKinnon RACGP's NSW/ACT GP of the year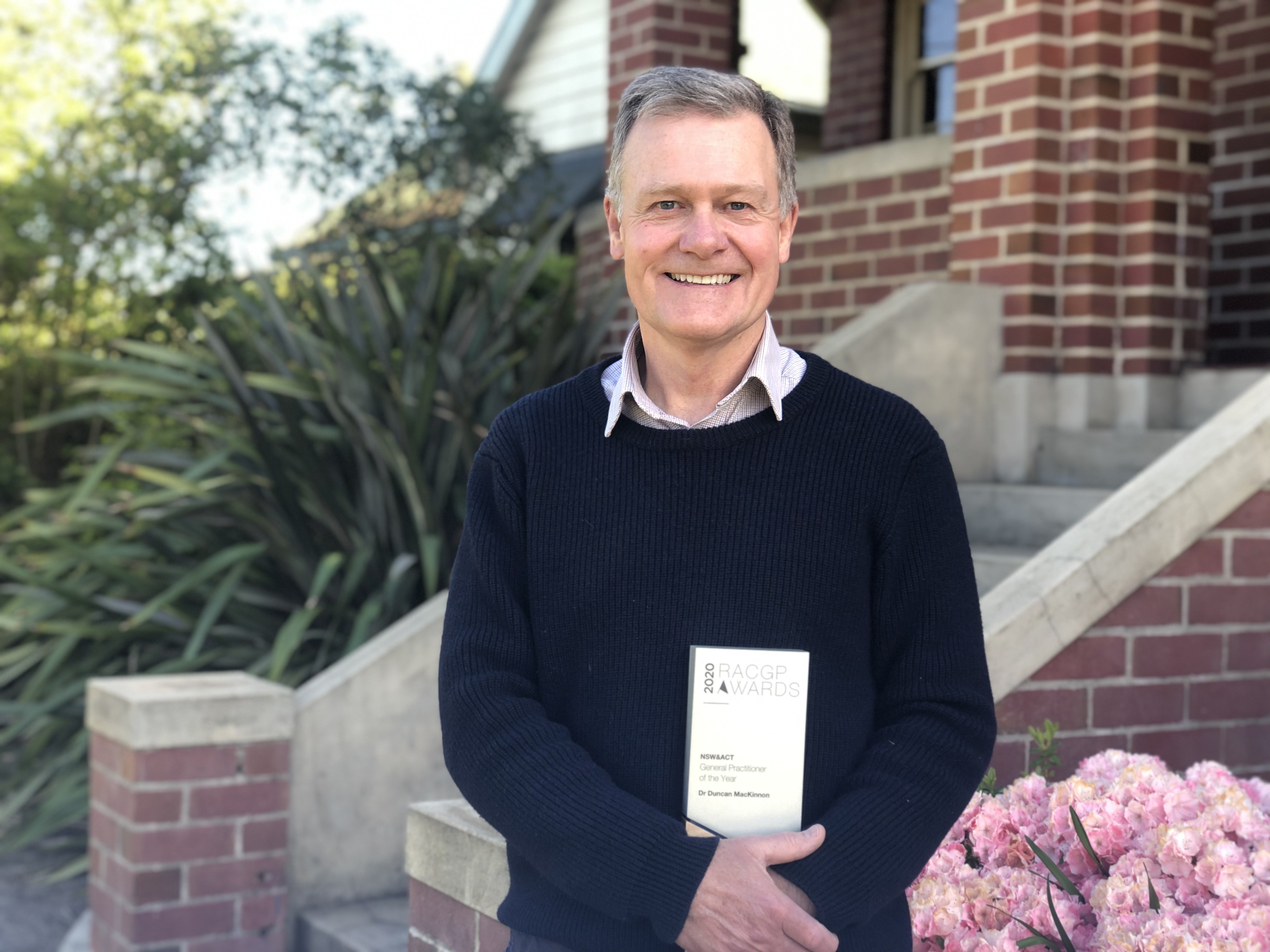 Congratulations to Dr Duncan MacKinnon who has been named the NSW/ACT General Practitioner of the Year by the Royal Australian College of General Practitioners (RACGP). The RACGP Awards recognise the value of GPs in our local communities and celebrate their achievements.
Dr MacKinnon is a champion of general practice, advocating for improved communication processes between hospitals and general practice. He has always promoted the benefit of having a system that works together to better support people and improve outcomes. When asked what the award means to him, Dr MacKinnon said it's nice to be acknowledged but, the greatest motivator for his work is being immersed in the community and understanding the community's needs.
As well as being the practice principal of the Bega Valley Medical Practice, Dr MacKinnon is also the GP Liaison Officer (GPLO) for the Far South Coast region.
Dr MacKinnon's advocacy during his role as GPLO has resulted in:
Improved communications to GPs – which supported the planning and preparation of RACFs in the event of a COVID-19 outbreak.

The implementation of a streamlined outpatient service referral process for the South East Regional Hospital.

Discharge summaries being sent via fax by the SNSWLHD Mental Health service.
Throughout his career, Dr MacKinnon has contributed greatly to the Bega community and surrounding regions. He was one of the early GPs to get involved in the Sentinel Practices Data Sourcing project and is constantly looking to find new ways to support his patients and deliver high-quality care.
Under his leadership, the Bega Valley Medical Centre is also participating in the Lumos project - an initiative between COORDINARE, the SNSWLHD, ISLHD and the Ministry of Health which aims to assist practices to gain a stronger understanding of their patients' journey across the health system.
As a part of the Patient Centred Medical Home innovation funding, the Teen Clinic team at Bega Valley Medical Practice mentored and supported four additional practices through the implementation of the nurse-led model of care. Teen Clinic was expanded to Curalo Medical Clinic Eden, Main Street Medical Merimbula, Lighthouse Surgery Narooma and Kiama Medical Practice.
Dr MacKinnon has also been involved in the NSW Health Leading Better Value Care initiatives including the Osteo Arthritis chronic care Programs and Osteoporosis Refracture Prevention in Bega Valley. His work with the programs has resulted in better integration with primary care, allowing GPs to refer to the programs, and receive follow up information from the hospital teams. He has also advocated for osteoporotic patients to receive a fast track dental assessment which has been included in the model of care.
COORDINARE would like to congratulate Dr Duncan MacKinnon for his many achievements and for being named RACGPs NSW/ACT General Practitioner of the Year.