Free From Stigma (FFS!) campaign for lung cancer awareness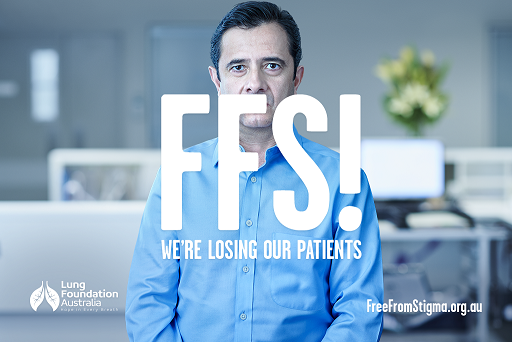 Did you know that 1 in 5 lung cancer patients receive no treatment?
Lung cancer research is massively underfunded in Australia. Survival rates are low, with just 17% of people surviving five years after diagnosis, compared to Australians living with bowel cancer, breast cancer, melanoma and prostate cancer, which have survival rates between 69 and 95%.
Approximately 12,740 Australians were newly diagnosed with lung cancer in 2018; nearly 35 a day, with 6,200 of these Australians likely to develop anxiety and depression. The prevalence of anxiety and depression in lung cancer is 29.6% higher than the average of other major cancers.
Sadly, people living with lung cancer have long experienced shame and stigma associated with the disease. Stigma negatively impacts all facets of lung cancer care and management, including access to lung cancer clinical nurse specialists (CNSs) – of which there is a chronic shortage in Australia.
To break down lung cancer stigma and promote help-seeking, the Lung Foundation Australia is conducting a first-of-its-kind campaign called Free From Stigma (FSS!). GPs, nurses and other health professionals are encouraged to support the campaign and spread awareness about this important issue.
Go to freefromstigma.org.au/our-campaign for details and to download campaign materials.