What our Panel said about inclusive services... March 2019
This month, we asked the Consumer Health Panel about different factors that make a doctor's surgery or health service feel inclusive, welcoming and culturally safe.
When asked about the physical details of a health service, almost 85% of people indicated that a clean waiting room makes them feel safe, included and welcome. The other most desirable attributes were:
comfortable seating for an older person (68%)
broad range of waiting room materials (61%)
children's play area (47%)
wheelchair and other accessibility aids (46%).
Several people also commented that adequate parking, disabled toilets and a quiet waiting room are important.
When it comes to staff attributes, 98% of people indicated that friendly receptionists are key to feeling safe, included and welcome in a health service. Health professionals who are knowledgeable and caring are also vital for 93% of people.
We asked the Panel to describe an experience of care, and whether they felt welcome or unwelcome.
It's great to see that most people have had positive experiences of care, thanks to friendly staff and personalised service. Many described themselves as lucky to have access to 'welcoming', 'friendly' and 'personal' services.
However, several people described more 'transactional' experiences, where they felt dismissed and treated as a number rather than an individual.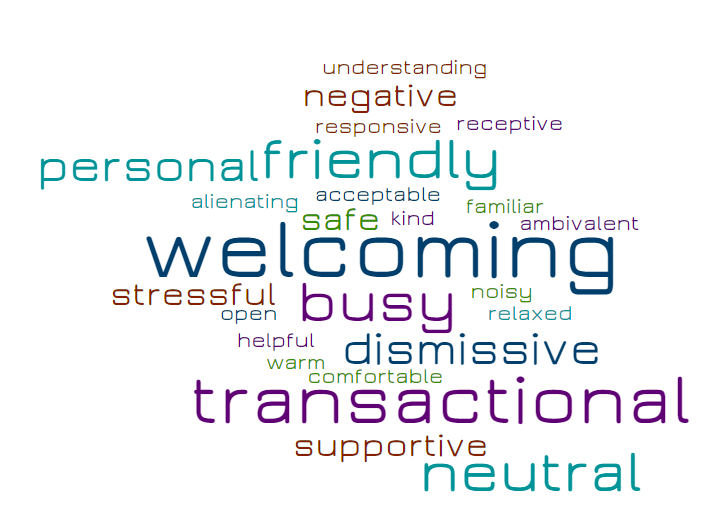 Above: We asked the Consumer Health Panel to describe an experience of care.
It's interesting to note that almost half of people (47%) indicated they don't have a preference for services specific to their cultural or social needs.
However, of the 14% who did have a preference for culturally and socially specific services, this was almost unanimously about availability (or lack of) women's health clinics.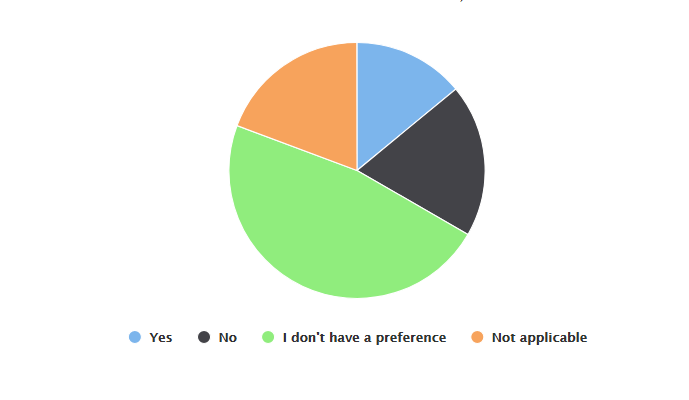 Above: We asked the Consumer Health Panel whether they would prefer to attend a health service that's specific to their cultural and social needs.
We also asked the Panel about geographical isolation, and whether people living in rural or remote areas should have access to telehealth, web chat or a phone option.
More than half of people (51%) felt that telehealth, web chat and phone would be important options for people in rural and remote areas, and some with no experience of rural life acknowledged the difficulties of access some people must face.
One respondent commented that rural and remote people need support: "…in the way of mental health. Living in a rural area … there are [often] no psychiatrists."
Another respondent said: "It is important that people living in rural and remote areas have access to [an] alternative … but not sure if it can ever replace one-on-one doctor-patient contact."
Finally, several Panel members shared their overall thoughts on how to make health services more inclusive. The most frequent themes are summarised below:
if a change is made to a booking – involve the person in the change
treat patients as people
hire friendly receptionists
if things are running late – communicate waiting times
address staff shortages.
One person commented that doctors should be encouraged to work in rural areas: "Health services need more doctors, nurses, and other practitioners available outside the metropolitan areas – there is a shortage in the bush! It's not about inclusivity, it's about services."
Another person mentioned the importance of access to transport: "Sometimes transport options are not easily arranged. Inclusivity could include the GP or local health service enquiring about access to transport for some older clients or clients who are on their own."
Thank you to all of our Consumer Health Panel participants for sharing your views on inclusive health services.
Other opportunities
Public consultation on draft Terms of Reference for the Royal Commission into Violence, Abuse, Neglect and Exploitation of People with Disability
People with disability have the chance to provide feedback on draft Terms of Reference for a Royal Commission into Violence, Abuse, Neglect and Exploitation of People with Disability.
You can have your say on the Terms of Reference by completing the public survey at engage.dss.gov.au
Note: The consultation does not seek specific information on cases of abuse or violence and concludes March 28, 2019.
Is English your second language and do you look after a person in NSW?
Carers NSW is running a Carer Wellbeing group for culturally and linguistically diverse carers, with a six week telephone support program. Find out more information here.
Have your say on national standards in quality and safety for health care
The Australian Commission on Safety and Quality in Health Care is seeking input from consumers on the development of national standards in quality and safety for health care. The Commission will support travel for a limited number of attendees to attend the workshop closest to them. Lunch and refreshments will be provided at each of the face-to-face workshops.
Sydney: Tuesday 26 March 2019, 10am-2pm
Canberra: Wednesday 10 April 2019, 10am-2pm
There are also various online sessions available – see below.
Online 1: Thursday 28 March 2019, 12:30-2:30pm
Online 2: Thursday 4 April 2019, 5-7pm
Online 3: Friday 5 April 2019, 12:30-2:30pm
Online 4: Wednesday 10 April 2019, 5-7pm
Places are limited so register your interest for any of the above at DMHS@safetyandquality.gov.au.
***
Please note: COORDINARE is not a clinical health service and cannot advise individuals about their health care. Always seek the advice of your doctor or other qualified health provider regarding any questions or concerns you may have about a particular medical condition.