What our Panel said about integrated health care services... April 2019
This month, we wanted to understand the experiences of our Consumer Health Panel members with different parts of the health system, and whether the different services work well together.
More than 90% of our Panel indicated that they or someone they know have been in a situation that required medical care from different providers.
More than 65% of our Panel feel that decisions about care should be made by the person being treated where possible. It's encouraging to see that in 45% of cases, the care plan was already self-managed.
Despite this, not everyone feels that self-managed care is the best option. Responses varied depending on the person's situation, but overwhelmingly family and carers were being relied on to manage the person's care.
Several people suggested that doctors/specialists need to work more collaboratively. Lack of communication and care coordination across the system was a key concern for many.
One respondent said: "There seems to be no coordination… [specialists] lack understanding of complex issues that are not part of their specialty – i.e. what it is to be a human rather than a consumer."
Another respondent said: "With multiple co-morbidities, the GP is often overwhelmed and relies on feedback from specialists… [yet] communication is inconsistent. Discharge letters from hospital admissions often leave a lot of information off, depending on who is writing it."
When visiting health care providers, 2 in 5 Panel members felt that the provider had sufficient information about their health history.
However, more than 60% of people had received conflicting information from different health care providers, and were required to repeat their story.
When asked about the best ways to manage conflicting information, some key comments included:
get a second opinion
do your own research
find a doctor who takes the time to consider the options
don't be afraid to ask questions.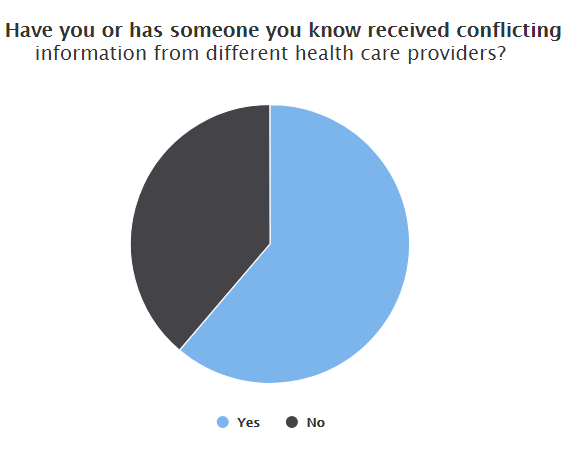 Above: We asked the Panel whether they or someone they know has received conflicting information from providers.
It appears that most people feel their different providers communicate well with each other, but require occasional updates from the patient – with 44% of people indicating this.
When asked about strategies for sharing health information, the most popular suggestions were referral letter, online record (e.g. My Health Record) and email.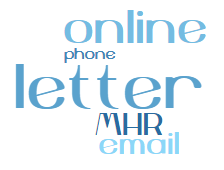 Above: We asked the Panel about the best strategies for sharing health information.

When being discharged from hospital, 2 in 5 Panel members said that their living situation was considered and advice was provided.
However, 1 in 5 said that no-one considered their living situation. One person said: "Very little consideration is given to people living alone or to providing support for carers."
Finally, we asked the Panel if they could change one thing about the health system, what it would be. Some of the top suggestions included:
national rather than state-based approach
explain 'why' to the patient, not just 'what' to do
more hospital beds for regional/rural hospitals
better communication between care teams
safer, more secure electronic records.
***
Thank you to the Consumer Health Panel members for sharing your experiences with integrated health care services. Topics like this can be difficult to address, and we wanted to let you know that we value hearing your thoughts.
Integrated care is an area COORDINARE is working on and your feedback confirms its importance, giving us a better idea of what needs to change.
Some of our work in this space includes jointly funding a number of GP Liaison Officers (GPLOs) across the region, who work between different parts of the system and provide advice to hospitals. You can read our latest GPLO funding announcement here.

COORDINARE is also trialling new ways to deliver care – by funding and linking providers to deliver care in innovative ways. We recently developed a case study about a project called Shared Medical Appointments, which you can read here.
A sneak peek at next month: we will ask you about what type of information you might expect to find on our website. What would be helpful to you? Have a look around and next month you will have the opportunity to tell us what needs to change.
***
If you or someone you care for needs mental health support, please contact:
Lifeline – 13 11 14
beyondblue – 1300 224 636
MensLine Australia – 1300 789 978
(24/7 telephone and online support, information and referral service for men.)
QLife – 1800 184 527
(Telephone and online chat support service for lesbian, gay, bisexual, trans* and intersex people, 3pm – 12am daily.)
***
Please note: COORDINARE is not a clinical health service and cannot advise individuals about their health care. Always seek the advice of your doctor or other qualified health provider regarding any questions or concerns you may have about a particular medical condition.