What our Panel said about My Health Record... May 2018
This month, COORDINARE asked people in South Eastern NSW for their thoughts on making health information more accessible to individuals, carers and healthcare providers.
My Health Record is an online summary of an individual's key health information. The Australian Government has announced that a My Health Record will be created for all Australians by the end of 2018, unless they choose to opt-out of receiving one.
We asked the panel how they feel about sharing health information via My Health Record; what the benefits are; and about any concerns they might have.
Survey responses indicated that more than three-quarters of people (78%) would like a simple and more accessible way to keep track of their own health and medical information.
When visiting a new healthcare provider or travelling, 85% of survey participants believe it would be helpful to have their digital health information available on My Health Record.
More than 90% of people felt that the most useful information to share on a My Health Record is:
a health summary uploaded by a doctor, including conditions, allergies, medications and immunisations
emergency contact details
test results and reports.
When asked about any concerns people have regarding My Health Record, more than 85% of people were worried about who could access their health information, and how their information would be used.
However, 4 in 5 participants said that they would feel comfortable about their privacy if they were notified when, where and by whom their information is accessed; and if they knew that their health information could be accessed in an emergency.
Some suggestions for making My Health Record safer and more accessible to everyday Australians included:
improve data security and legislation
provide a help button
give older people assistance when the system changes
provide the ability to add your own notes and make corrections.
Prior to completing the survey, 70% of panel members had already heard about My Health Record, with most people finding out about it through their doctor or the myGov website.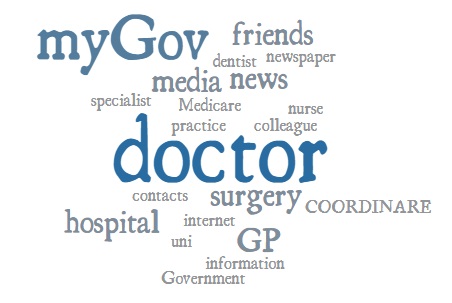 Above: Our panel was asked how they heard about My Health Record.
Half of our survey participants said they are happy to have a My Health Record created for them. A small percentage of people would prefer to opt-out, or are not sure. The main reasons for this are:
concern about having personal information stored online
privacy and accuracy of information
security and a lack of control over access.
It is encouraging that half of our panel have already registered for a My Health Record, with more than 60% of people registering themselves through the My Health Record website.
Some people have updated their My Health Record details or had their details updated by a doctor. The most common information being added to the My Health Record relates to medications and hospital discharge summaries.
Thank you to all survey participants for sharing your views about My Health Record and its uses, benefits and challenges. As more and more Australians register for My Health Record, it will pave the way for people to better manage their health information and enjoy more integrated and efficient services.
With a My Health Record, you won't need to worry about remembering everything and repeating your health history. Medicines, chronic condition details and the dates of recent tests are available when you see a new doctor or healthcare provider. The same goes for your children's health history, immunisations and medical tests.
Importantly, you can set access codes to control who sees your My Health Record, and what's in it. You can also request that some documents aren't uploaded to your record. Strict rules and regulations on who can see or use your My Health Record will protect your health information from misuse or loss.
If you don't want a My Health Record, you will be able to opt-out of having one created for you during a three-month period later this year – more details of this to come.
To find out more, go to myhealthrecord.gov.au or free call 1800 723 471.
***
Please note: COORDINARE is not a clinical health service and cannot advise individuals about their health care. Always seek the advice of your doctor or other qualified health provider regarding any questions or concerns you may have about a particular medical condition.