What our Panel said about organ donation... August 2019
In light of DonateLife Week (28 July - 4 August), we asked the Consumer Health Panel for their thoughts on organ donation.
More than 90% of our Panel members have not donated an organ or tissue. However, 60% of people are registered organ donors, with the majority of people consenting to donate all of their organs. This is great to see!
Of those who have signed up to be an organ donor, almost half (47%) did so through MyGov. A few people indicated that they signed up to be organ donors when registering their license.
However, state-based driver's license donor registries no longer exist. To become an organ donor, people need to register via the MyGov or DonateLife website.
When it came to making a decision to donate, discussions with family members was the leading source of information, followed by information on TV, radio, newspaper or social media.
Of those who have chosen not to register as an organ donor, 2 in 5 people said this was due to medical reasons.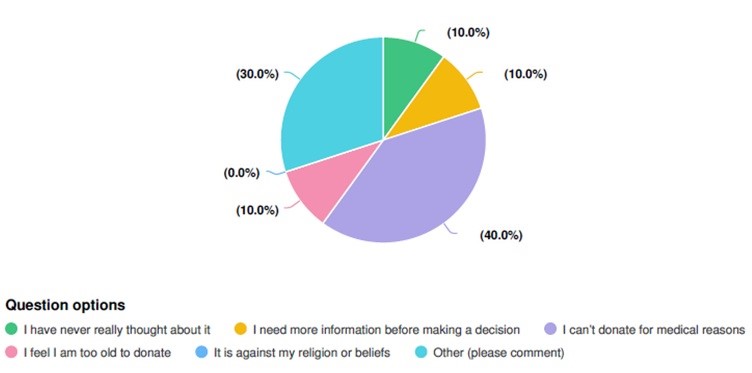 Above: We asked the Panel if there is a reason they have chosen not to register as an organ donor.
It's encouraging to see that 40% of the Panel would still consider becoming an organ donor if they had more information from a doctor, or health or government websites.
Spirituality was noted as a concern, with one person explaining, "I don't know the answer [about whether to donate]. Do not consider myself religious, but spiritual."
The majority of survey respondents (70%) have discussed their preferences regarding organ donation with their next of kin.
When we asked the Panel how likely they would be to donate their family member's organs (if they weren't aware of the person's wishes), 3 in 4 people said 'Likely', with just 12.5% of people indicating 'Unlikely'.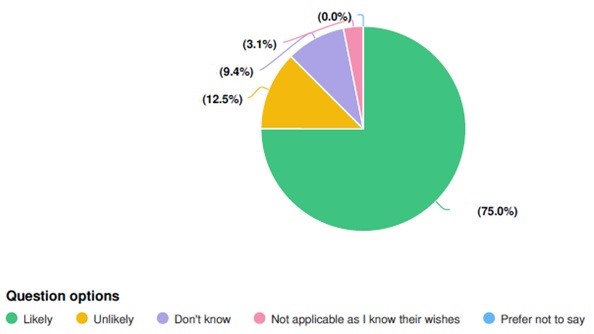 Above: We asked the Panel how likely they would be to donate a family member's organs in the event of their death.
There were some insightful comments from our Panel about whether doctors should talk to patients about organ donation.
Some of the key comments included:
"Should be a part of everyone's discussion with their medical practitioners."
"I'm already donating my brain for research."
"Inappropriate – they are visited for wisdom on health matters, not death."
"Reasonable, however how would that information be passed onto my next of kin?"
"Very appropriate but depending on the situation [the doctor], would require a degree of sensitivity and be non-judgemental. Also the doctor should not push his/her personal view on organ donation."
As the South Eastern NSW PHN, we will continue to communicate to health professionals about the views shared by the community. We are working to ensure people feel comfortable sharing their views, and that their views are heard and valued by doctors and supporting health care providers.
Starting the conversation about organ donation can help to increase awareness and encourage discussions with loved ones. To register as an organ donor, visit the DonateLife website: https://donatelife.gov.au/registering-be-donor
Thank you to our Consumer Health Panel members for sharing your thoughts on organ donation! We hope you enjoyed completing the survey in our new tool, Community Connect @ COORDINARE.
If you have any feedback about the new tool, feel free to email us at communciations@coordinare.org.au.
***
Please note: COORDINARE is not a clinical health service and cannot advise individuals about their health care. Always seek the advice of your doctor or other qualified health provider regarding any questions or concerns you may have about a particular medical condition.