What our Panel said about our survey topics... January 2018
COORDINARE's Consumer Health Panel has now been going for more than one year. So far, we have covered topics including after hours health care, cancer screening, advance care planning, seeking help for mental or emotional illness, chronic conditions, experiences with general practice, influenza, medication use, self-managed care, telehealth, mental health services and more.
We are interested to know what is working and what could be improved. This month, we asked our panel to provide this feedback and let us know what topics they are interested in for 2018.
Responses showed 9 in 10 panel members found the survey topics interesting and that views on a wide range of matters were being captured. There were, however, some panel members who could not relate to certain issues or found topics were not always relevant to their experiences. Nevertheless, some of those people saw it as an opportunity to learn about the services and provide feedback.
Pleasingly, more than 95% of the panel are finding the technology easy to use, although some have had trouble with the mobile app. We are currently working with our IT provider to resolve these issues and have been assured that an upgrade will be made available shortly.
We asked panel members their thoughts on the reports we send out each month with the survey results. The majority said these were informative, interesting to read, easy to understand and allowed them to see other people's views on various issues. Whilst some people thought the reports were concise and to the point, others would like to see more detailed information.
Within our reports we also provide links for people who may want to access further information or websites. Whilst 8 in 10 people have found these links useful, others have either not used them or not required further information.
More than 80% of panel members said they would recommend a family member or friend join the Consumer Health Panel. Others thought one member per family was sufficient, were unsure if their family or friends would be interested, would like to see the range of issues broadened or mentioned their family and friends have similar health experiences to themselves.
Panel members were asked what topics they would like to see explored in 2018 and although there were some common themes, the varied responses included: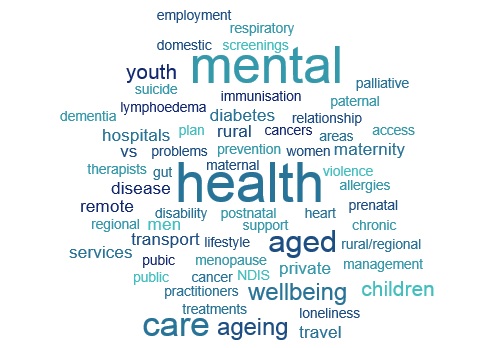 We also asked people to make any further comments and tell us what we could do better, one panel member suggested a discussion forum at the end of six months to enable contributors to add to or update based on interactions with the survey. Others mentioned increasing the number of participants for broader views and opinions, to communicate how the process is assisting service delivery and how they are resulting in change.
We will also take into consideration comments such as notifying consumers of the expected date of the next survey or to allow a longer time to complete it, to include more specific answers and less generalisations, more choices in multiple choice responses and more ability to add comments.
We also received some really positive feedback including this from one panel member:
"I really feel that even this questionnaire is so much in the right direction. You are asking the right people. We are not generally the most highly educated, nor maybe, the exalted in the community. But we are the most qualified to offer advice. So you are asking the question. I hope you get some good responses."
Once again, thank you for your feedback and comments. We will certainly use it to influence future topics, and make improvements to the way we undertake our surveys.
If you would like to view the reports on any of our previous panel topics visit our website here.
***
Please note: COORDINARE is not a clinical health service and cannot advise individuals about their health care. Always seek the advice of your doctor or other qualified health provider regarding any questions or concerns you may have about a particular medical condition.